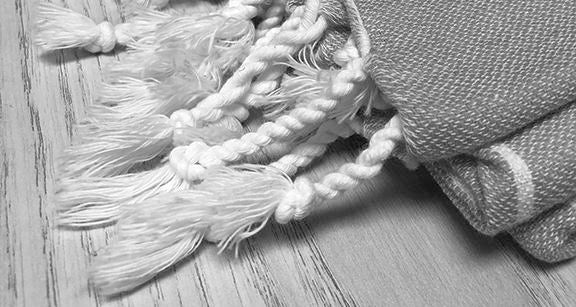 The Knotty range of Turkish towels are high-quality towels made from soft, absorbent Turkish cotton. They are known for their unique texture, created by the interweaving of yarns in different colors, and a knotted fringe, thus the name a "knotty".  Sometimes if washed too roughly and spun too hard the tassels can come undone - but that's no problem just follow these steps to retwist..
Follow this step-by-step process to fix untied tassels on a Turkish towel:
Separate the threads into two equal sections.
Twist each section in a clockwise direction.
Twist both sections together in a counter-clockwise direction.
Knot tightly at the end.
These towels are lightweight, fast-drying and become even softer with each wash. They are versatile and can be used as bath towels, beach towels, yoga mats, and more. They are also eco-friendly, as they require less energy to produce and less space to store compared to traditional towels. The Knotty range offers a range of colors and sizes to choose from, making it easy to find a towel that suits your style and needs.
Annika Macvean