26 ways to use a Knotty Towel.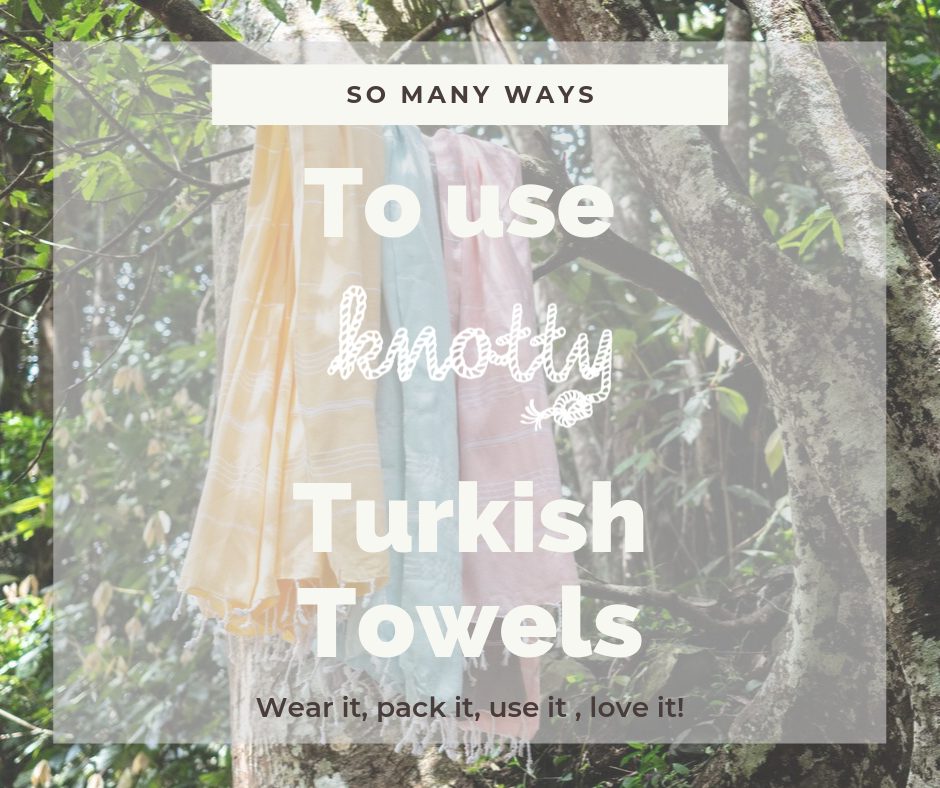 THERE ARE SO MANY WAYS...
Knotty Turkish towels are loved for their versatility, but I bet you'll be surprised how many ways you can use one. Here are 26 ways you can use your Knotty Turkish towels. 
Check out from 20 down to see how to wear a Knotty!
Before you start learning how to use a Turkish towel, you'll need a Turkish towel! Get an Original here. It's the best Knotty Turkish towel to begin your obsession! Just choose your favourite colour!
PRACTICAL WAYS TO USE A KNOTTY TOWEL
1. WALL DECO
Hang a Knotty on the wall above your bed, sofa or any large wall that needs some interest. You can hang it vertically or horizontally, depending on the space you need to fill. 
2. TEA PARTY TABLE CLOTH
Add whimsy and class to a tea party. Lay a Knotty on the floor or on a table, then set-up the tea party. Don't forget the cookies. 
3. END OF BED BLANKET
Drape it over the foot or on the bed itself. Add a tray and a few toiletries to welcome and delight overnight guests. Checkout our Lambswool Knottys too..perfect in winter.
4. PRAM or STROLLER COVER
A Knotty towel is always useful with kids so pack one along and use it to protect babies and kids from the sun or rain. And for those messy clean ups!
5. PICNIC BLANKET
Lay a Knotty or two on the ground for a simple picnic blanket. Or even better use a Jumbo Knotty for the whole family. After you eat, shake it off, roll it up and you're on your way.
6. TABLECLOTH
Lay it out on your indoor dining table or outdoor table for a casual dinner party.
7. BED BLANKET
We also have beautiful Lambswool Knottys (a winter Knotty if you like!) Lightweight but super warm!
8. BEACH BLANKET
Turkish towels (especially our Jumbo Size) are ideal for the beach because they dry quickly. You can lay it on the sand to carve out your own space on the beach. Sit or lay down and enjoy the summer day!
9. BEDHEAD
Hang a Knotty up above your bed for a simple and, easy to move, headboard or drape over your existing bedhead for a change.
10. BOAT TOWELS
Stash a few Knottys on the boat - sailing or motoring - they are the best! You can use them as sun and wind protection or to dry off after swimming or skiing behind the boat.
http://www.stylingyou.com.au/2014/09/love-the-whitsundays
11. BATH TOWEL
The most common way to use a Turkish towel. Knottys are great in the humid climates because they dry so fast, but also a great where it is cold because they are light so dry much more quickly than a traditional towel.
12. CHAIR/SOFA THROW
Drape a Knotty on your living room furniture to use as a protective cover or as a light blanket.
13. LADDER ACCESSORIES
There's no need to hide these towels away. Hang on ladders in any room to add color and softness. We have one in the hallway for the kids to grab their towel before swimming lessons!
14. UMBRELLA
Caught in an unexpected rain shower? Hold the towel over your head. It will dry quickly once you're out of the rain, too!!
15. SOFT DOORWAY
Create privacy where there's no door. Hang a towel from the top of the door frame to close off a room.
16. SHADE IN PHOTOGRAPHY
Add a Knotty towel to shield the sun when taking photos on the beach.
17. YOGA MAT COVER
A must have for hot yoga! Keep your mat dry and your toes in place. Use our Gym sized / hand towels for the perfect sized towel for wiping off the sweat!
18. DOG DRYING
Grab a couple to take to the dog wash - they are so absorbent used before a blow-dry. Here is my Lola showing you how!
KNOTTY TOWELS ARE THE GREATEST TRAVEL ACCESSORY
19. TRAVEL BLANKET FOR THE PLANE
Tuck a Knotty towel in your carry-on and use it to cover up on a chilly plane. So much nicer than an airplane blanket (are they really washed every time?)
20. BEACH TOWEL
You'll be happy to have a light and quick drying Knotty towel at the beach!
21. CAMPING TOWEL
Use a durable Knotty Turkish towel on a camping trip. You can use it as a blanket, a towel, and protection from the elements.
22. SEAT COVER IN THE CAR/PLANE/BUS
Protect your legs and bottom from hot, cold and dirty seats. Just what you need on a backpacking trip!
HOW TO WEAR A TURKISH TOWEL
23. HAIR TOWEL
A Turkish towel dries hair quickly and safely. It won't damage your hair and won't feel too heavy on your neck - if fact the soft Turkish cotton can help fight the frizzies too!
24. SARONG
Wrap it around your torso as a dress or around your hips as a skirt. Knot it or tie to to keep it in place.
25. SCARF
Tie a Turkish towel around your neck for comfort and warmth. This is great for travel. Wear it as a scarf at the airport, use it as a blanket on the plane, and use it as a towel at your hotel. 
How good does Knotty Wild look as a scarf!
26. MAKESHIFT SLING BAG
Use a Knotty to fashion a bag or carry a baby.
Have you got a way to use a Knotty we haven't thought of? Love to hear your ideas below....
WHERE TO BUY TURKISH TOWELS:
So now that you have all these useful ways to use Knotty Turkish towels, you're going to need a few. Browse our online store to find your favourite! And if we can help with anything feel free to chat online, email us or call 😊
Annika Macvean